Empowering the Music Community
with a Money-Making App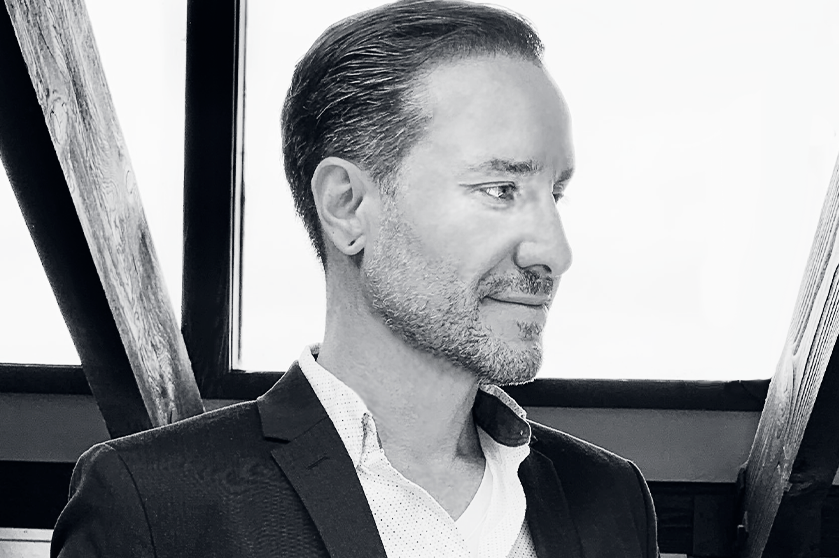 Thanks to technology, musicians can easily share their content with the world. With a single tap, artists can deliver performances to billions of people almost instantly.
Social media platforms provide a place for artists to post content, engage with fans, and communicate with peers in the music community. Musicians of past decades would relish the tech platforms of today that connect audiences around the globe. Yet, while social media can catalyze fanbase growth, most musicians still suffer from "starving artist syndrome".
Trubify, an award-winning, innovative app dedicated to tackling this issue, is empowering artists to make a living doing what they love.
Democratizing Monetization in the Music Industry
Unlike streaming services like Apple Music and Spotify, Trubify allows artists to monetize livestreams directly to fans. Whether live performances, studio sessions, or even backstage rehearsals before taking the stage, performers earn 2¢ per livestream viewer. And Trubify is not just for rockstars – songwriters can stream intimate storytelling sessions, hip-hop producers can discuss their beat-making process, and a street buskers' digital tip jar can now get filled by potentially millions of new, adoring fans. Archived streams or uploaded performances additionally earn 1¢ per viewer. And that's only the beginning...

Trubify's innovative modular income system allows artists to pick and choose from one or all of the discrete revenue-generating features within the app. Á la carte product offerings allow musicians to focus on what resonates best with their genre and audience. To ensure all artists can earn significant income, Trubify's technology incorporates fan-generated engagement, brand sponsorships, and Google AdTech to provide a plethora of monetization options.

By taking advantage of iOS and Android's in-app-purchase ability, fans seamlessly tip their favorite artists with a single tap. Selling virtual tickets to exclusive performances, monthly recurring patronage from superfans, and proprietary influencer-marketing technology rounds out the feature sets rolling out in 2021.

Trubify also eliminates worry of copyright infringement, demonetization, and deplatforming – all of which are all-too-real for artists trying to monetize on YouTube, Twitch, and other streaming platforms. By striking deals with the 12 largest music publishers in the world, Trubify allows artists to safely perform AND MONETIZE nearly 98% of the world's music catalog.

To start earning money, all an artist needs to do is 'go live' and show off their talent.
It's Not Just Musicians Who Can Monetize

Trubify also has interesting streamers who do not perform, but still engage and monetize audiences with their exclusive insights into music production or recording processes. Likewise, labels can host virtual album release events to millions of people, teachers can give piano or guitar lessons (more cowbell, please!), and instrument builders can show you how to wire up your new Fender Stratocaster with vintage pickups. The possibilities are endless.
Experiences like these have never before been so easily available to artists and fans alike. Since the pandemic rocked the entertainment industry, artists have turned to hosting livestreamed events while the world figures itself out.
Another feature, Trubify's Backstage Pass, gives fans exclusive access to behind-the-scenes experiences that are fully customizable. Artists can integrate merchandise sales into their profiles, allowing viewers who just saw an intimate live experience to easily access a digital locker, which may include merch and other collectible items. Jam sessions, community conversations, and even tour bus antics with your favorite artists will close the gap between artist and fan like never before.
Substantial Payouts Designed with Artists in Mind
In an Acorns Grow article about a musician, Sereda, we learned how she uses the popular video game streaming platform, Twitch, to make money streaming her creative process. Sereda's Twitch channel boasts 200,000 followers – a large fanbase of dedicated viewers who tune in regularly to observe her personal songwriting 'eureka' moments. Sereda says she streams 3 - 7 hours per day with anywhere from 500-1,000 viewers at a time. This earns her an average of $4,500 per month, but Twitch was designed for gamers, not musicians.
Trubify believes musicians like Sereda deserve to earn more for this level of engagement. Let's say Sereda splits her daily streaming into 5 different 1-hour sessions, Monday - Friday. Using realistic assumptions, if only 0.375% of her 200,000 fans join each stream, she is guaranteed $1,500 each month. If 3.75% of her fans view each archived stream, she's guaranteed another $7,500. And if Sereda earns an additional $2 in tips on average from just 1% of her followers, she generates an additional $4,000 each month.
---
---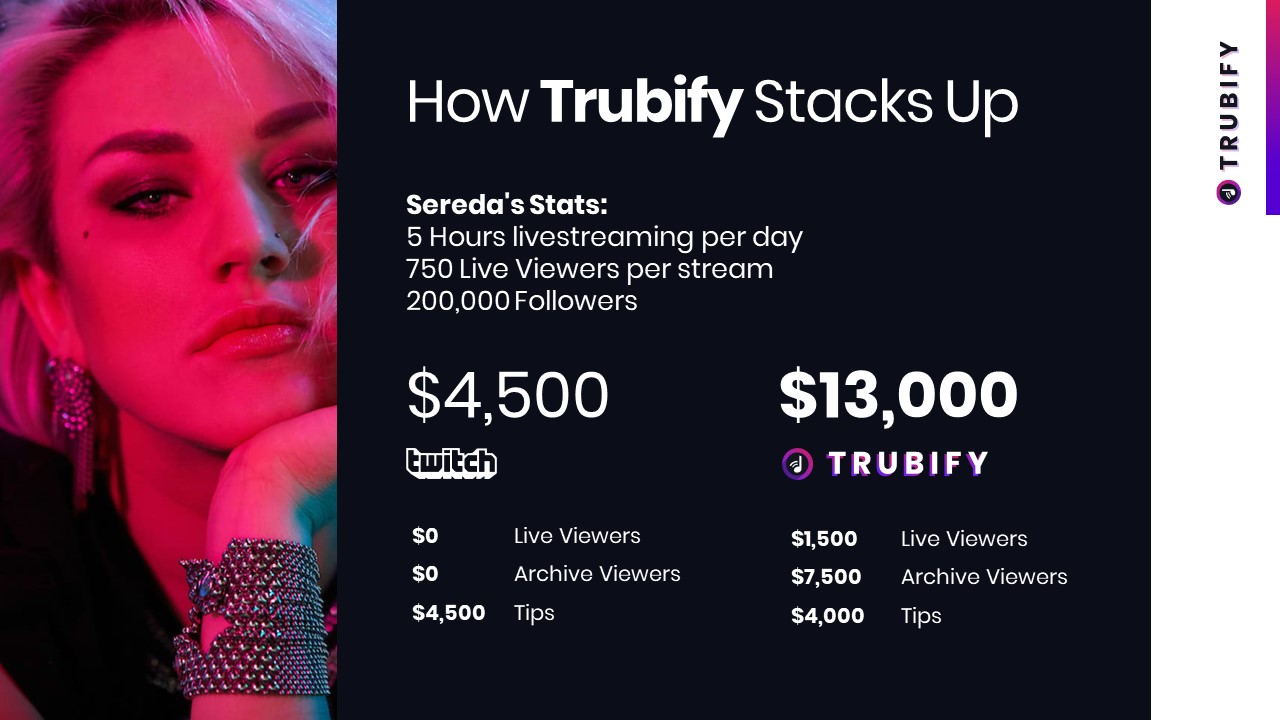 ---
In summary, with a similar audience on Trubify, Sereda can expect to make $13,000 per month.
Twitch was not built for musicians, and still brings Sereda roughly $54,000 a year. On Trubify, she can expect to earn twice that off of per-viewer payouts alone, totaling $156,000 per year with conservative tipping estimates included. This is what makes Trubify the premier destination for musicians to monetize their music.
Trubify not only allows artists to earn a good living, but provides plenty of discretionary income for musicians to grow their money in an investment account like Acorns. Imagine what will happen when Trubify's other features launch in late Q1 and throughout Q2 of 2021 – with ticketing, monthly recurring patronage, and robust influencer marketing opportunities, the sky is the limit.
The age of the digital troubador is here – Join the music Lovelution now at Trubify.
---